AFTER THE DREAM DRESS
COMPLETING YOUR WEDDING "LOOK"
These days finding quality accessories and wedding party pieces, that won't break the bank, can be a struggle. It can take months to find just the right piece - but at I&L we have a variety of new and vintage headdresses, belts, jewelry and more! Let us make the process easy.
With so many shades and styles to choose from, finding the right look for your bridesmaids, groom, groomsman and flower-girl is a cinch. Our professional stylists are here to help!
Our great selection gives you flexibility in color, fit, and budget, with piece of mind. Plus each I&L bride attendant receives a discount!
LEARN MORE ABOUT WHAT WE CARRY>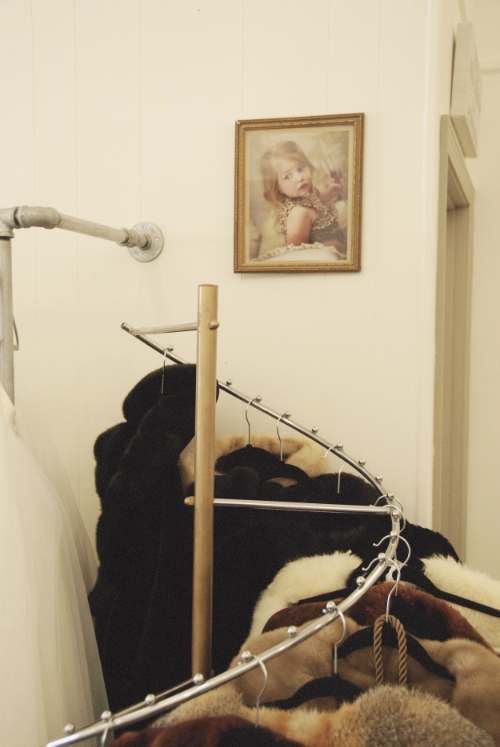 ACCESSORIES
While mostly vintage, we also carry handmade and local jewelry, including pearls, crystals and so many others.
We also have decorative, beaded belts to add some glam, a handful of vintage headdresses, capes, "slippers", gloves and more!
Also, don't miss out on trying on our fabulous vintage furs and faux furs- available for rental!
ALTERATIONS
Our talented seamstress can preform many "miracles" in-store, so you don't have to worry about "getting back" your dress on time. What alterations we do send out we keep you up-to-date on and allow for plenty of time before the big day to get them back and make sure you are happy with them.
Helpful Tip: Remember to factor in alteration costs to your overall gown budget.
FITTINGS
We are very invested in your satisfaction so sometimes multiple fittings are necessary to get everything perfect. After the initial Bridal Appointment when you select your dress, the order is placed and work begins on the customization. To make sure it is just right additional measurements need to be made, then the fit and movement tested on your body. We ask brides to wear the undergarments they plan to wear on the wedding day, as well as the shoes. It's also a great idea to bring along jewelry, accessories and photos of planned makeup or hair for styling advice if you desire.
SEE BRIDE FITTING VIDEO >
TIMELINE
Our owner recommends booking and ordering your dress about 7-8 months in advance. Many designer dresses take approximately 4 months to go through the order process. The ideal timeline would then leave plenty of time for alterations, which are recommended about 2 months before the wedding (waiting until this closer time allows for any body changes and a more accurate fit). We always keep our brides in the loop about what exactly is happening with her dress. If you have any questions or need a shorter timeline and are curious about the possibilities please contact us. We are happy to help!